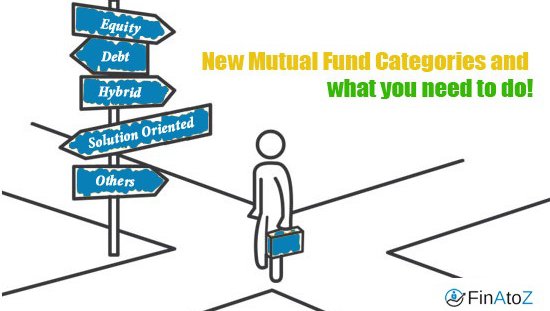 If you are a mutual fund investor you must be bombarded by emails on new mutual fund categories! 
Are you wondering what are the new mutual fund categories and what you need to do with them?
What exactly are new mutual fund categories?
New mutual fund categories are designed with the intention of simplifying the mutual fund investment process. On 6th October SEBI issued a circular to all Mutual fund companies to categorize and rationalize their existing mutual fund schemes. This was aimed to make life of an investor easy. As per the circular all the open-ended mutual fund schemes in India had to be categorized and rationalized into five broad categories:
Equity

Debt

Hybrid

Solution Oriented

Others.
These mutual fund categories are further divided into sub categories. For Equity funds - based on market capitalisation and for Debt funds - based on investment duration. Only one scheme per category would be permitted per fund house except :
- Index Funds
- Funds of Funds having different underlying Schemes
- Sectoral / Thematic Funds investing in different sectors / themes.
Is it a positive move? 
Without proper classification and categories, investors had a tough time in selecting the right fund based on their risk appetite and financial goal. With the new mutual fund categories, it will become far more simpler for an investor or for their financial advisers to choose right funds for them. Overall, this move will go a long way to simplify the mutual fund investment process and enhance comparability of the schemes.
What is the reason for SEBI to define new Mutual Fund categories?
Some fund houses had many schemes for each mutual fund category. The investors were confused by the number of schemes. A lot of investors were misled into schemes which were not as per their requirement or risk profile. New mutual fund categories help investor to identify the right scheme as per their requirement. This will reduce instances of mis-selling.
As per the SEBI's guidelines Mutual Fund houses can have only one scheme per category. The MF's has to group their equity schemes into Large, Mid and Small as below: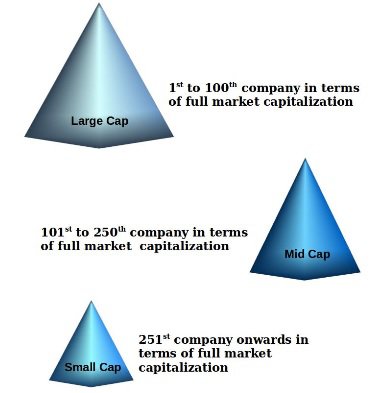 All large-cap funds have to invest in the same universe of stocks. Similarly mid-cap funds can't invest in those stocks that are classified as small-cap or large-cap. For instance an equity large-cap fund will consist of at least 80% of large-cap stocks which is defined as the top 100 companies in terms of market capitalization.

Similarly, in case of debt funds, earlier the maturity of debt funds was not defined. Hence it was difficult to track the fund's relative performance. But after the categorisation, each fund needs to align with the duration as specified by the respective category.

What is the impact of new mutual fund categorization and classification?


What investors need to do?

Investors should consult with their financial advisors to review their mutual fund portfolio. In consultation with their financial advisor, they should go ahead and make necessary changes to their investment portfolio. Important point to note is that if the investor switches or redeem the fund between May 19th -May 31st 2018, there won't be any exit load if the fund has undergone changes in its fundamental attribute. However, they may have to bear the burden of capital gain tax if they opt to exit. To get a complete list of new mutual fund categories you can click: https://www.fundsindia.com/fundschanges/fundchanges.html

What have we done for our investors?

As SEBI Registered investment adviser we have analysed Mutual Funds of our existing customers. We are advising them on any relevant changes that might have to be done based on new Mutual Fund categories. We are keeping a close track of mutual funds which we have invested for our customers and doing all that is required to cope with this short term mess.
To conclude, new mutual fund categories may lead to short-term confusion and instability due to changes in schemes and churn in the portfolio. However, in the long-run this move will simplify the mutual fund selection process for an investor and make her life a lot easier. It will also have a positive growth effect for the mutual fund industry as a whole.

blog comments powered by

Disqus