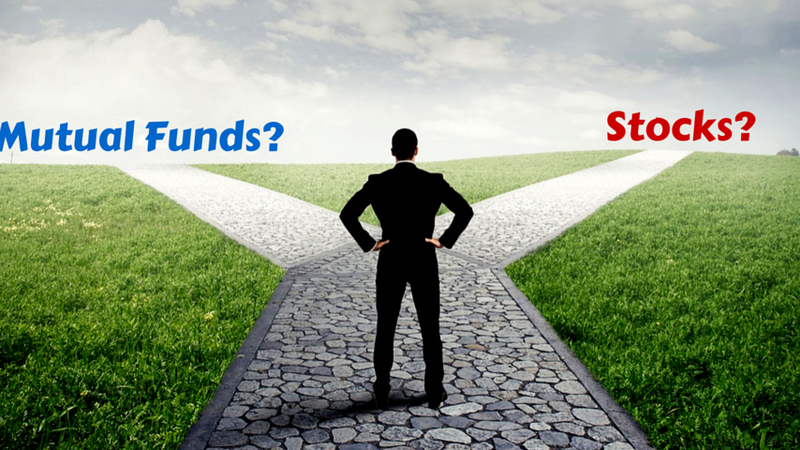 Do you ever wonder which one is a better investment option between Mutual Funds vs Stocks?
Whether you should invest your hard-earned money in Mutual Funds or Stocks?
Does the choice depend on your investment time-frame?
Or does it depend on your risk profile?
Our short answer to this question is: Mutual funds have several advantages as compared to direct stock investment.

Advantage#1: No need to pick and track stocks

The biggest advantage of investments into mutual funds is that it needs much lesser time commitment and high aptitude in finance is not a requirement.

Stocks, on the other hand, needs lot of one's bandwidth. They need constant tracking and monitoring. One needs to track stock specific news, quarterly results, promoter holding pattern etc. It also needs certain skills and aptitude in finance. For eg. one should have a basic idea about how to read a company's balance sheet, P&L statement etc.

Mutual funds are managed by professional fund managers who have deep expertise in stock selection. They are highly qualified and have the right research bandwidth. They have a qualified team of research analysts who not only track the markets but analyse specific stock opportunities. This ensures that investor money is invested into opportunities that are well researched and tracked continuously.
So, investment in mutual funds take that extra bit of burden off your shoulders and you can take the back seat, relax, and let the fund manager reap you good returns on your hard earned savings.
Advantage #2: Risk Diversification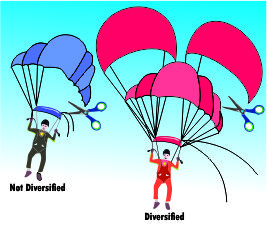 Mutual funds normally invests where portfolio is spread across wide spectrum of companies. Even if one company does not do well or goes bust, other companies may compensate for the same.
For example, an investor with the amount of Rs. 5000 might be able to invest in a max. of 3 to 4 stocks if he wants to invest directly into stocks.
But, with same amount of money (Rs. 5000) he may be able to invest in 40 to 50 companies in the case of Mutual fund.
This provides much needed risk diversification to a small investor which will be very difficult to achieve in case of direct stock investment.
"A mutual fund, is simply your finance bag which shows your investment into different shares and securities."
Advantage #3: Regular Investment generates Wealth

Mutual funds provide a very simple and effective mechanism of investing regularly.
Systematic Investment Plan (SIP) enables an investor to save regularly even though the quantum of investment could be as low as Rs. 500 per month. Imagine buying a portfolio of 50 stocks on a monthly basis with as low as Rs. 500 per month.
This may not be possible if you invest directly into stocks .
Another important aspect is the ease at which SIP investments can be done in Mutual funds.
Finatoz provides an online investment platform where SIPs can be started, paused or stopped at the click of a button. This provides a lot of flexibility to a businessman or a working professional who may have some temporary income variability.
Regular investment is absolutely necessary to generate wealth in the long run.
"Mutual funds enable just that!"
Advantage #4: Convenience
There is an unimaginable convenience of investing in a mutual fund as compared to stocks. Investing in individual stocks needs lot of research and tracking.
Researching individual stocks and keeping an eye on corporate results, management actions, share pledge data etc. is a very time consuming and specialized skill.
Even if you do a good research to start with or follow expert recommendation from established mediums like Economic Times or CNBC-TV18, you may not be able to track when to exit and on what basis?
But, investing in mutual fund is very convenient and periodic high level tracking may be good enough to generate consistent and relatively safe returns
Advantage #5: Liquidity
Open ended schemes of Mutual funds provide an exit option at your will. Suppose you want to sell 25% of your total holding to take care of some financial commitment; you don't have to worry about which stock to sell and which one to hold.
You can just put a sell order to sell 25% of your mutual fund holding.

Another issue with stocks is that some companies especially in small cap space are pretty ill-liquid in nature. It may be difficult to sell them at the market price.
Such kind of issue will not happen in case of Mutual funds.
So, while it may be fashionable to hold stocks of good companies like Infosys, Reliance, Tata Motors, HUL etc, there are several risks associated with direct investments into stocks of listed companies.
Mutual funds, on the other hand, may look boring to some investors; they are a great tool to invest and multiply your capital in the long run.
"Mutual funds or Stocks? Take your pick!!"
blog comments powered by

Disqus