2019 has been an year full of surprises. Even though Sensex touched all-time highs, the returns didn't seem to translate for the investors. Main reason for this anomaly was the fact that very few companies participated in the upward journey of Sensex. Few big stocks like Reliance, Bharti Airtel, HUL etc. gave good and handsome returns. On the other hand, majority of the listed stock universe gave below-average to negative returns. Since Sensex is an index of top 30 companies of the country, it went up. However, Mid-cap and Small-cap indexes, which cover a much broader spectrum of the market, ended in the negative return zone. For the same reason Mutual funds also ended with muted returns as compared to the Sensex. This divergence, though, may not last for long. In the short to medium term, market forces will ensure that the undervalued stock market universe outperforms their overvalued large peers.
The debt market was also into doldrums with once top-rated companies like IL&FS, Zee – Essar Group, DHFL etc. defaulting on their debt commitments. 2019 was one of those exceptional years when neither equity nor debt gave good experience to the investor.
Top Trends in the Investment World– Top trends for the year 2019 is an advent of investment products other than Mutual Funds. Investment world saw the rise of alternate investment products like Peer-to-Peer Lending, Direct Stock Portfolios, Managed Real Estate to name a few. Some of these products offer a good risk-reward in the medium to long run. Other catching trend is investment into international mutual funds that invest into international indexes like S&P 500 and Nasdaq-100. International investment provides a natural hedge to the possibility of Indian Rupee falling against the USD. It is also a good option in case one plans to send her children to study abroad for graduation / post-graduation.
List of FinAtoZ approved alternate investment products– In our endeavour to provide better investing experience to our clients, we at FinAtoZ approved the below mentioned investment products for our investors. These are in addition to the selected mutual funds that most of our investors would have already invested in. Thorough due diligence was done for each investment product to ensure that risk-reward is favourable for our investors. The list is subject to changes based on the market dynamics and the performance of the individual investment product.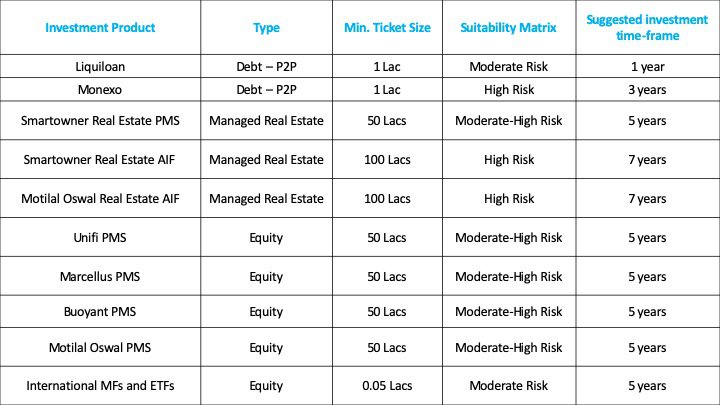 In addition to the above listed investment products, our research team is currently evaluating few more investment products with a relatively lower ticket size so that we can offer it to majority of our investors. We will communicate the same to you once they are approved by our research team.
New addition: Insurance Execution– One of the feedbacks that we had received from our clients was to provide an in-house execution capability for the Insurance products. In the past there were instances when our clients could not get the requisite support when they had to go for an insurance claim. Moreover, it provides us a handle to support the families of our clients in case of any untimely eventuality. Hence, we are glad to inform you that have now set-up a full-fledged Insurance execution and support team. We believe Insurance execution will propel us in our journey to become a one stop shop for all personal financial needs of our clients.

The Road Ahead in 2020– It is difficult to predict what may happen in the next year. However, based on the current trends and past data analysis following looks to be the likely direction:

Mid and small-caps may outperform the large cap stocks thereby reducing the valuation gap.
Select few large-cap companies may continue to remain at elevated valuations.
There is a risk of increased inflation and continued lower growth. In that case, Gold may become a good hedge.
Government may come up with a good budget to boost demand and improve overall business environment. If this happens, it will be good for domestic equity and debt markets.
Diversification to remain the key. It will be good to diversify into international equities and other alternate products like Peer-to-Peer lending and Managed Real-Estate.
Finally, we would like to re-iterate that we remain fully committed to provide best in class investment products to our investors. Personal finance is like planting a tree. We need to take good care of the sapling during its initial growth; and wait patiently for it to become a big tree that bears healthy and delicious fruits of financial freedom.