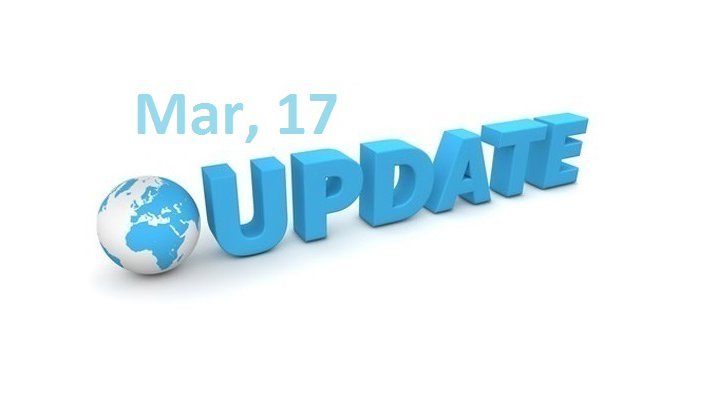 It's 'Har Har Modi', 'Ghar Ghar Modi' echoing everywhere. Resounding victory of BJP in UP is a proof of Modi's populism and credibility among the people. It signs that impression of demonetization on people is positive. This historic win is not just a ringing endorsement of his popularity but also an impetus to his prospects for 2019 elections. It will be taken positively by the market as it gives the government enormous political space going forward. Markets have inched up with the hope of Modi's much stronger reforms for steady economic development and long term growth.
One more big news is GST has come a step closer to reality. Among the nine bye-laws that need to be framed for GST, four have been approved and the remaining five would hopefully be approved by March 31. This creates a hope that GST can possibly be rolled out from July 1, 2017. Once GST is introduced, it will bring a unified nationwide tax replacing a multi-layered set of taxes levied by central and state. GST will create a common market and can help lower the tax burden. It will shore up government revenues, temper inflation and boost economic growth by at least two percentage points. Refer the link for more details: https://www.vccircle.com/impact-gst-indian-economy/

On a global level, US Fed has increased rate by 0.25 bps and projects two more rate hikes going forward. It is mainly supported by its steady economic growth and strong job gains. So far, the interest rate hike has not created much volatility in the Indian Market as it is already factored in. Change in economic policies in US will have an adverse impact on Trade and also be threat to most Indians especially on IT professionals.
Overall, the markets are overvalued and this rising valuations lack support from fundamentals. Also, the fact that the path to reforms will be long and demanding. Hence, we still continue to maintain 100% of your new investments into less-risky debt funds. We will patiently wait for the right time to move this money to equity.
MACRO ECONOMIC TRENDS
Kindly refer to the below graphs for a summary of major macro-economic parameters and their respective trends: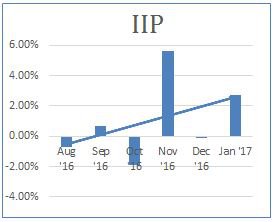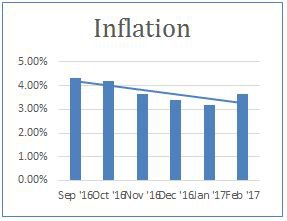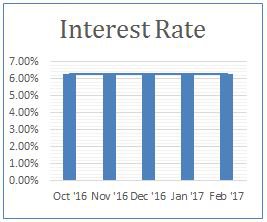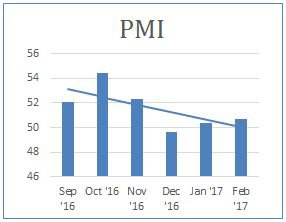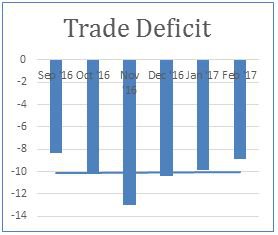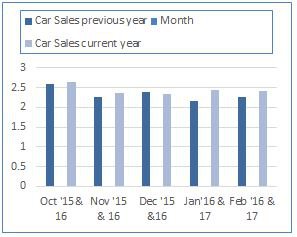 SENSEX VALUATION TREND :
The markets are over-valued right now and are not supported by the fundamentals.

CORPORATE EARNINGS TREND :
Corporate earnings are likely to fall further because of the effect of demonetization.
MARKET OUTLOOK AND CURRENT DECISION AS PER FTM :
Most of the asset classes remained volatile in the month of Mar, 2017:
1. Bonds – Bond yield have corrected by 1.13% in Mar.

2. Gold – Prices of Gold decreased by 2.39% in the month of Mar.
3. Equity – Sensex increased by 1.73% in the month of Mar.
CURRENT ZONE AS PER FTM:

Returns comparison of FTM with Sensex over 1 year period :

CHANGES MADE TO YOUR PORTFOLIO LAST MONTH :
We have made the following changes to your portfolio during the month of Feb & Mar:
We have changed one of our funds in FTM-Lumpsum and FTM-SIP portfolio. We would be taking Kotak Treasury Advantage Fund in place of Kotak Banking & PSU Debt Fund going forward. With the change in interest rate stance from accommodative to neutral Kotak Treasury Advantage fund looks to be more stability than Kotak Banking & PSU Debt Fund.
Due to higher valuation in mid & small cap segment we continue to have zero exposure towards Mid Cap & Small Cap Funds in your portfolio. Also we continue to maintain 50% of equity exposure in your monthly SIP's and remaining 50% will be in Debt funds with a zero exposure towards Gold.
Invest right, Invest consistently & Invest for long term horizon. Happy Investing!