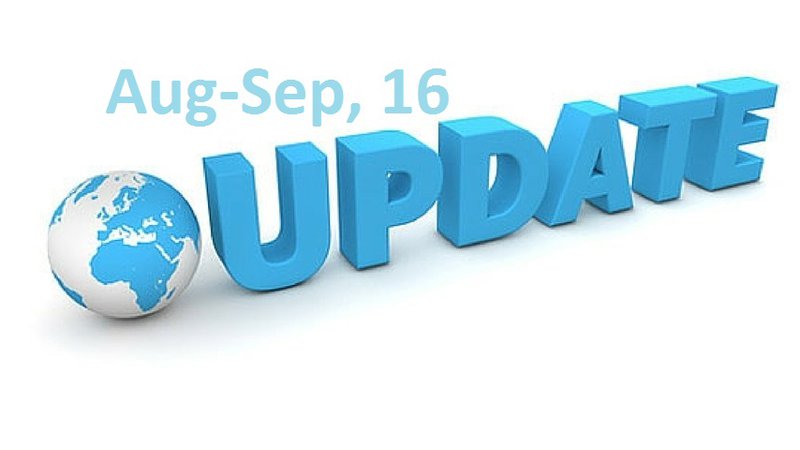 With Fed holding rate increase in the USA, global liquidity will continue to chase stock markets in the Emerging Markets. As a result Indian stock markets may continue its upward journey for the time being.
However, fundamental on the ground data continues to be mediocre. One of the matters of concern with the macros is the contraction of IIP data which is mainly because of decline in manufacturing & capital goods sector. Also there is a 4% rain deficit all over the country which is below the IMD forecast.
Another challenge for new RBI Governor would be to handle the redemption of FCNR deposit's worth $26 billion which is going to mature in next few months. This may put temporary pressure on Indian Rupee which may have a negative impact on FII flows.
Other big macros that may have medium to long term impact in our economic growth story are "Timely implementation of GST" and "Increased tensions with Pakistan". While impact of GST will take at least a couple of years to come by, any war like situation with Pakistan may have adverse effect on our economy.
MACRO-ECONOMIC TRENDS
Inflation in India increased 6.07% y-o-y in Jul of 2016 reaching the highest rate in a year. Numbers are above the market expectations of 5.9%.
Index of Industrial production (IIP) contracted by 2.4% y-o-y in July 2016, following a downwardly revised 2% growth in June and missing market consensus of 1.7% gain.
Exports dropped by 6.84 % y-o-y in Jul 2016 and were valued at USD 21.68 billion as against USD 22.57 billion in Jun 2016. Imports slumped by 19.03% y-o-y and were valued at USD 29.5 billion in the month of Jul 2016.
Kindly refer to the below graphs for a summary of major macro-economic parameters and their respective trends: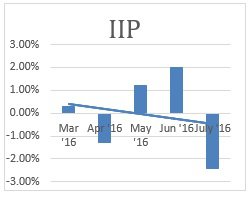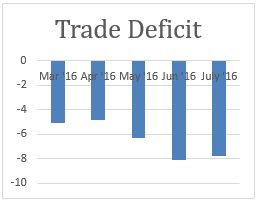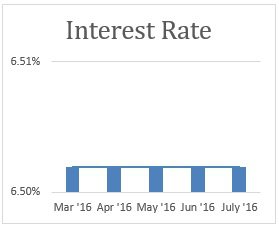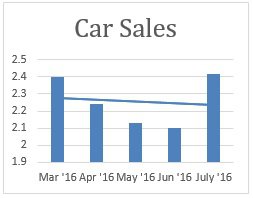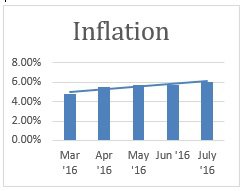 SENSEX VALUATION & CORPORATE EARNING TREND
The markets are overvalued right now as the current P/E is higher than the historical average P/E values.


*As on 6th Sep 2016; historical data of Sensex and Nifty Mid Cap 100 is of last 10 years
MARKET OUTLOOK AND CURRENT DECISION AS PER FTM
Most of the asset classes remained volatile in the month of August :
1. Bonds – Bond yield moved down by 4 basis points which resulted in a slight positive performance of G-Sec funds in the month.

2. Gold – Prices of Gold decreased by 2.66 % in the month of Aug 2016.
3. Equity – Sensex gained by 1.6% in the month of Aug.
CURRENT ZONE AS PER FTM:

Returns comparison of FTM with Sensex over 1 year period:

This is a high outperformance as compared to Sensex. We were able to save most of your portfolio downside during last one year thus enabling a positive investment experience for you.
CHANGES MADE TO YOUR PORTFOLIO LAST MONTH
We made the following changes to your portfolio during the month of Aug & Sep:
1. Exposure in Mid & Small cap – We continue to have zero exposure towards Mid Cap & Small Cap Funds in your portfolio.
2. SIP Investment – As mentioned earlier, Equity valuation is expensive and is placed in the Red Zone as per the FTM. Hence, we have reduced the exposure of equity from 40% to 10% in your monthly SIPs starting Sep. Remaining 70% will be invested in Debt and 20% in Gold.
3. Lump sum Investment – We are taking 10% of the new money into Gold and the rest 90% in Debt funds.
Invest right, Invest consistently & Invest for long term horizon. Happy Investing!