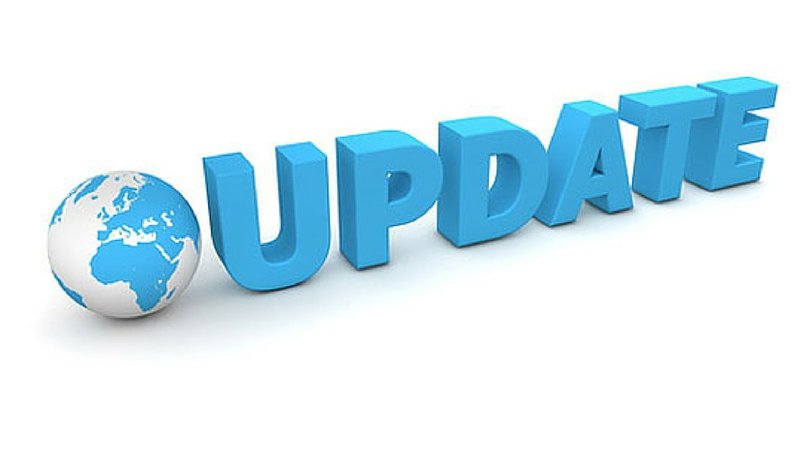 The International Monetary Fund has retained its growth forecast for India this year at 7.5 per cent, largely driven by private consumption even as weak exports and sluggish credit growth weigh on the economy. India's growth momentum is expected to be underpinned by private consumption, which has benefited from lower energy prices and higher real incomes.
Political risk, region by region, is high at the moment. From an Indian perspective, domestic political risks are high. First, the long-awaited Goods & Services Tax (GST) is very unlikely to go through within this Lok Sabha term. The ruling Bharatiya Janata Party (BJP) does not have the numbers in the Rajya Sabha. GST implementation would be chaotic for about a year. It would also be an embarrassment for the government if it did pass the Bill late into this Lok Sabha term.
The global crude oil prices have been quite volatile, Brent crude reached fresh 2016 highs in April and was poised for its biggest monthly gain in seven years as a weak dollar and falling U.S. production tempered concerns about a lingering excess of physical oil. Shares of oil companies were trading higher by up to 4% after crude oil prices hit 2016 highs. Stable crude oil prices will be good for equity markets globally as well as India.
MACRO-ECONOMIC TRENDS
Inflation in India is at 4.83% in Mar of 2016 which is lower than 5.18% in Feb and below market expectations of 5%. RBI cut its benchmark repo rate by 25 bps to 6.50% during the meeting held on 5th April 2016.
Index of Industrial production (IIP) declined 2% y-o-y in Feb 2016, the first gain in four months. Exports declined 5.47% y-o-y in Mar 2016 and were valued at USD 22.72 billion as against USD 20.74 billion in Feb 2016. Imports reduced by 15.98% y-o-y and were valued at USD 27.79 billion as against USD 27.28 billion in Feb 2016.
Kindly refer to the below table for a summary of major macro-economic parameters and their respective trends: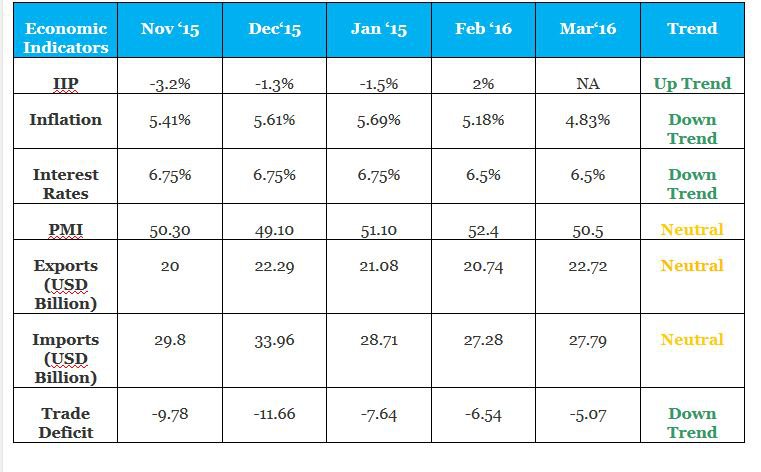 Most of the economic parameters have shown gradual improvement during the last six to nine months. This shows that green shoots are coming up for the Indian economy.
SENSEX VALUATION & CORPORATE EARNING TREND
The markets are at reasonable value right now as the current P/E is close to the historical average P/E values.

*As on 6th May 2016; historical data of Sensex and Nifty Mid Cap 100 is of last 10 years.

Corporate earnings have been rising for the last 6-9 months. However, it has declined for the month of April. On deeper analysis, we have found that this decline is an aberration and temporary in nature. It is mainly because of Finance sector and Banks reporting lower earnings to clean up their balance sheet (as per RBI guidelines). If we take out Financial sector out of this equation, we see that the trend of improved corporate earnings continues even in April.
MARKET OUTLOOK AND CURRENT DECISION AS PER FTM
Most of the asset classes remained volatile in the month of Apr as well:
1. Bonds – Bond yield moved down by 7 basis points which resulted in a slight positive performance of G-Sec funds in the month.

2. Gold – Prices of Gold increased by 8.1 % in the month of Apr over the backdrop of correction in equity market.
3. Equity – Sensex gained by 1.33% in the month of Apr. Large Caps are trading at fair valuations but Midcaps look to be over-valued.
CURRENT ZONE AS PER FTM:

Returns comparison over 1 year period:

This is a high outperformance as compared to Sensex. We were able to save most of your portfolio downside during last one year last thus enabling a positive investment experience for you.
Changes made to your portfolio last month :
We have not made any changes to your portfolio in the last month. We continue to maintain 100% of your SIP money in a combination of large caps, infrastructure funds & mid / small cap funds. At an overall level, we maintain 85% allocation to equities for the Growth-FTM portfolio. Going forward, we will wait for an opportune time to move this remaining 15% allocation to equities based on market movements and the signal from FTM.
As per our analysis provided above, Indian economy is set to recover from here, though the pace of recovery will depend on global conditions. After the recent uptick in Sensex, valuations are trading closer to historical average.
We continue to track fundamentals of the markets on a daily basis. And, if there is any change as per FTM, we will proactively communicate to you and make the necessary changes to your portfolio with your due approvals.
Invest right, Invest consistently & Invest for long term horizon. Happy Investing!