The Indian markets continued its downward journey in the month of October as well. So far in 2018, the broad markets have corrected to the tune of 25% to 30%. This is a very big correction. Markets have not witnessed such a broad downfall since 2008.
Let's check out the reasons for the market volatility:
Continued selling by Foreign Investors - Foreign Investors pulled out a massive amount of $5 billion from the Indian Capital Markets last month. This was on the concern of rupee depreciation, global trade war, and crude oil prices. The outflow is higher than the withdrawals in September.

Rising Crude oil Prices - Iran is a major crude oil source for India, and US sanctions on Iran take effect next month. Hence the volatility is likely to continue.

Rupee Depreciation - The sliding in rupee continued in October also due to the trade deficit, global factors like increase in US fed rates, trade wars etc.

Liquidity crisis triggered by IL&FS - The Liquidity crisis in non-banking financial companies. The overall investment climate churned due to the liquidity issues in the bank and NBFC segments due to the IL&FS default.

Upcoming elections - The upcoming elections also increased the market volatility.

Overall, as we mentioned in the previous monthly update this is the best time to start allocating more towards equity. The market volatility gives a good opportunity to take advantage of cost averaging in the long run. The investor will be buying more units at lower prices and gain benefits when the markets eventually recover. We are monitoring the market conditions very closely and will take necessary actions to increase your allocation to equity as and when required. 
MACROECONOMIC TRENDS
Kindly refer to the below graphs for a summary of major macroeconomic parameters and their respective trends:
PMI
PMI India rose to 52.2 in September from a three month low of 51.7 previous month but below market forecasts of 52.4.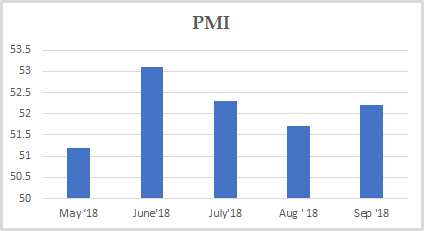 INFLATION  
Inflation in India increased to 3.77% in September from 3.69% in the previous month and below the market expectations of 4%.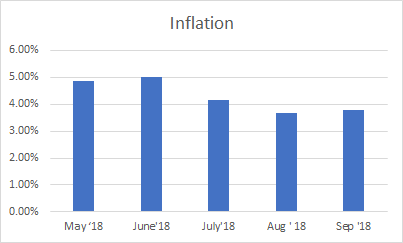 TRADE DEFICIT
India's trade deficit widened to USD 13.98 billion in September from USD 9.4 billion a year earlier.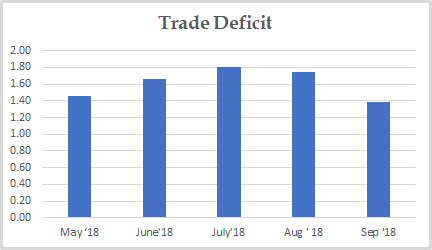 CAR SALES

Car Sales has increased to 2.63 in September from 2.61 in August and it is decreased on a year on year basis. 
CORPORATE EARNINGS

Overall the trend for corporate earnings looks to be upward from last few quarters.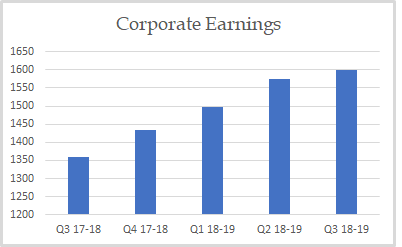 VALUATION

Markets are now looking fairly valued based on historical P/E and P/B basis.